Listen to our music

Our present director, Robert Lewis, took over in September 2011, and under his leadership the choirs have continued to grow and increase their repertoire. They have taken part in a performance of Karl Jenkins' Requiem, with the composer in the audience, and also performed in a concert of the Monteverdi Vespers in Guildford Cathedral. The choirs toured Venice in August 2018, and in 2019 made a recording for the BBC2 drama, "Mothers Day". The choir tour to the Vatican and Rome for August 2020 has been postponed. Click here to download a list of the anthems in the choirs repertoire
Listen to some recordings for this time during the Coronovirus isolation: Tell Out my Soul and Look at the World and scroll down for more tracks to listen to.
The choirs of St Thomas-on-The Bourne have recorded CDs that are available for sale. Enquiries about purchasing CDs to the Parish Office please
Four Girls in Harmony (2018)
Sung by the Girls' Quartet Accompanied by Andrew Harrap
Recorded "in house" at St Thomas-on-The Bourne in April and June 2018
This CD comprises a selection of beautiful sacred and secular music from the 16th through 20th centuries. Sung by the Girls' Quartet from the Choir of St Thomas-on-The Bourne they, are accompanied on piano and organ by Andrew Harrap. It is an "in-house" recording of amateur performers.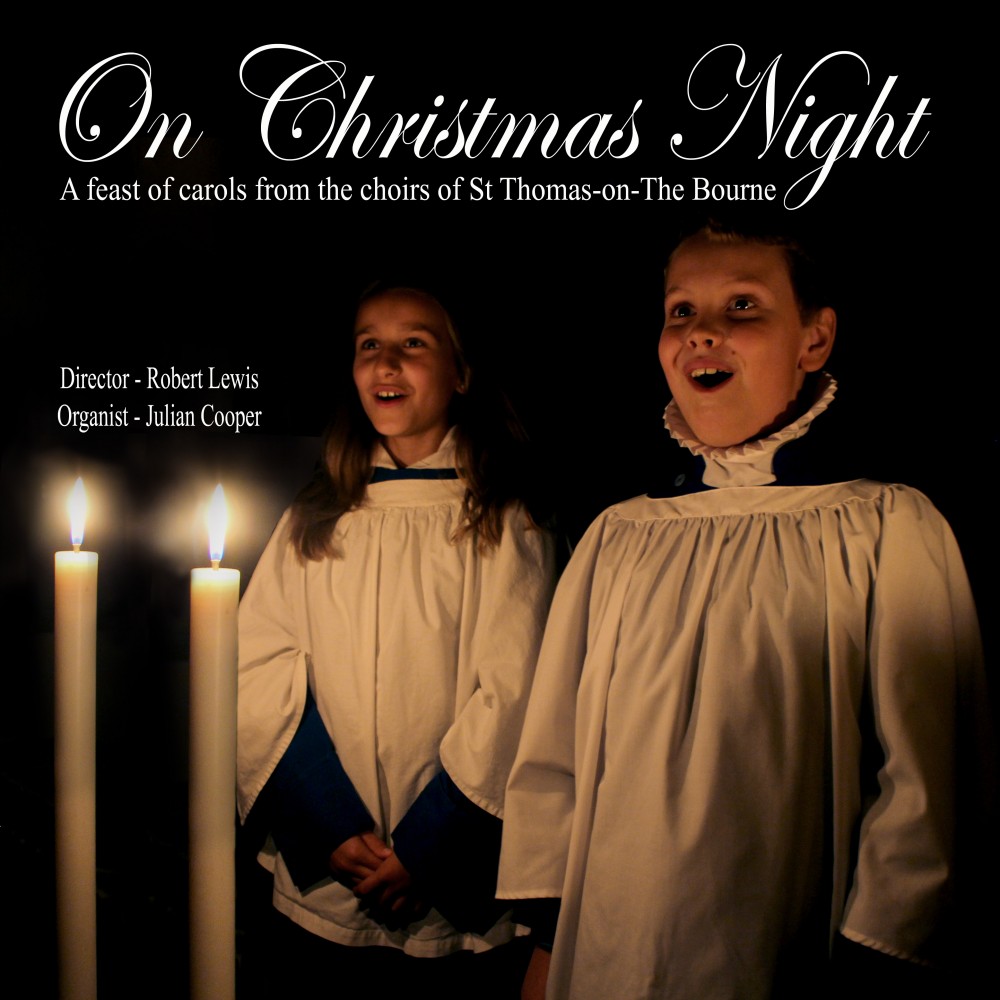 On Christmas Night (2013)
Director: Robert Lewis
Organist: Julian Cooper
Recorded: St Thomas-on-The Bourne
Recorded by: Thomas Ashworth
Date: 27th August 2013 and 3rd Nov 2013 This stunning CD incorporates new arrangements of popular favourites and beautifully composed less well-known music. Sung by the choirs of St Thomas-on-The Bourne, it encapsulates the festive period with a mixture of choir-only carols; as well as congregational carols.
Enjoy some sample tracks below.
Check out the News and Events section and look out for our recitals and concerts coming up.
Girls in Harmony CD
20 beautiful choral tracks recorded at St Thomas-on-The Bourne April & June 2018